Key events
13 min March collects a loose ball 30 yards out and pings a shot that is blocked by Gabriel. That's a bit better from Brighton.
12 min Lots of Brighton possession in the last few minutes, though it has all been in front of Arsenal.
10 min After a torrid start, Brighton are starting to get a bit of a foothold in the game.
8 min "Mary Waltz's commitment to watching and supporting Everton despite illness-inducing time differences, her insights into football in general, and her humour (which, let's face it, has been invaluable when you look at Everton's 2022) have all been an inspiration," says Matt Dony. "Today, I am an American soccer fan. Today, I am supporting Everton. (And Brighton.) I hope for her sake Lampard pulls his finger out. Just not in Merseyside derbies."
7 min After a nice touch from Xhaka, Nketiah shoots wide on the turn from about 12 yards.
7 min "Brighton is definitely our bogey team of late," writes Zack. "Previously this might narratively have been put out there as 'a big test of Arsenal's credentials' but no one's even bothering anymore. I am definitely displaying pre-humiliating reverse levels of confidence but I don't think I can be stopped anymore! We're back! The Arsenal fans everyone hated the last time we were good! Smuggest fanbase in football, just watch us."
6 min Martinelli has a shot blocked. Arsenal are all over Brighton like a cheap cliche.
4 min: Good save by Sanchez! This is some start from Arsenal. Martinelli threads a little pass into the area for Zinchenko, the left-back by the way, who turns smoothly between Dunk and Colwill (I think) before hitting a close-range shot that is very well blocked by Sanchez.
2 min "The last fixture, and MBM, of the year," says Simon McMahon. "What am I going to do until, eh, tomorrow? A Happy New Year when it comes to you and all MBM'ers, wherever they are. Some of them will be in 2023 already, I'm sure. Here's to another year of great sport. Plus some Scottish football as well, of course."
Partey won the ball off Lamptey high up the field, with Zinchenko then finding Martinelli on the left side of the area. His shot took two deflections before reaching Saka, who controlled the ball deftly and swept it past Sanchez on the half-volley. That's a quietly superb finish.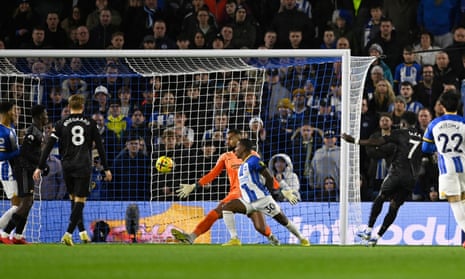 GOAL! Brighton 0-1 Arsenal (Saka 2)
Buyako Saka scores after 64 seconds!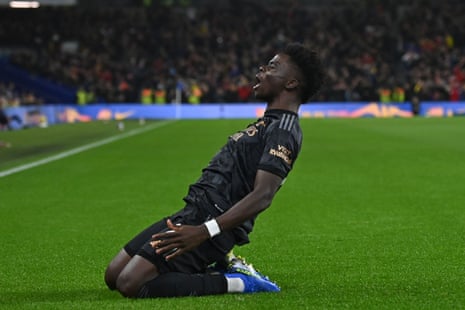 1 min Peep peep! After a slight delay because of a problem with the fourth official's technology, Arsenal get the match under way.
The players have gathered round the centre circle to pay tribute to Pele, football's first all-time great.
Report: Man City 1-1 Everton
Who knew Arsenal would finish 2022 with a debt of gratitude to Frank Lampard.
"Dear Rob," writes Jones Manoah, before providing one of the better typos of the year. "Long-suffering goober from Kenya. Seeing the City result I want to hope… But history Rob. History. Trust Arsenal to Arsenal it."
They haven't Arsenaled it that often, have they? 1986-87, 2002-03 and 2013-14 are the obvious ones in my lifetime, plus maybe one or two seasons under Wenger towards the end of the 2000s. Until about 25 minutes ago, I thought this brilliant run was just setting them up for heartbreak; now I'm not so sure.
"2022 has been a dismal year for Everton fans," writes Mary Waltz, though she didn't actually say 'dismal'. "But at the death of this year a miracle has happened. Not a child, but Everton gets a point at Etihad. Ulcer-inducing but we hung on!
Full time: Manchester City 1-1 Everton
My word. Demarai Gray's spectacular equaliser has given Everton an unlikely draw at the Etihad. It means that, if Arsenal win tonight, they'll go seven points clear at the top of the Premier League. If they're not careful, they might win the bloody thing.
Half-term reports
Brighton make two changes from their win at Southampton in the week. Tariq Lamptey and Billy Gilmour replace Joel Veltman, who is on the bench, and Moises Caicedo, who isn't. He's suspended.
Oleksandr Zinchenko replace Kieran Tierney at left-back for Arsenal, the only change from the win over West Ham.
Brighton (4-2-3-1) Sanchez; Lamptey, Dunk, Colwill, Estupinan; Gilmour, Gross; March, Lallana, Mitoma; Trossard.
Substitutes: Steele, Van Hecke, Veltman, Turns, Moran, Hinshelwood, Sarmiento, Enciso, Ferguson.
Arsenal (4-1-4-1) Ramsdale; White, Saliba, Gabriel, Zinchenko; Partey; Saka, Odegaard, Xhaka, Martinelli; Nketiah.
Substitutes: Turner, Tierney, Holding, Cedric, Tomiyasu, Vieira, Lokonga, Elneny, Marquinhos.
Referee Anthony Taylor.
Hello and welcome to live coverage of Brighton v Arsenal at the Amex Stadium. Whatever happens tonight, Arsenal will be top of the table going into 2023, but they'd very much like to restore* their five-point lead over Manchester City.
Brighton are difficult opponents, who have already won twice at the Emirates this year, so the last Premier League game of the year should be a good one.
Kick off 5.30pm.
* Or even extend it, because as I type Everton have just equalised at the Etihad.