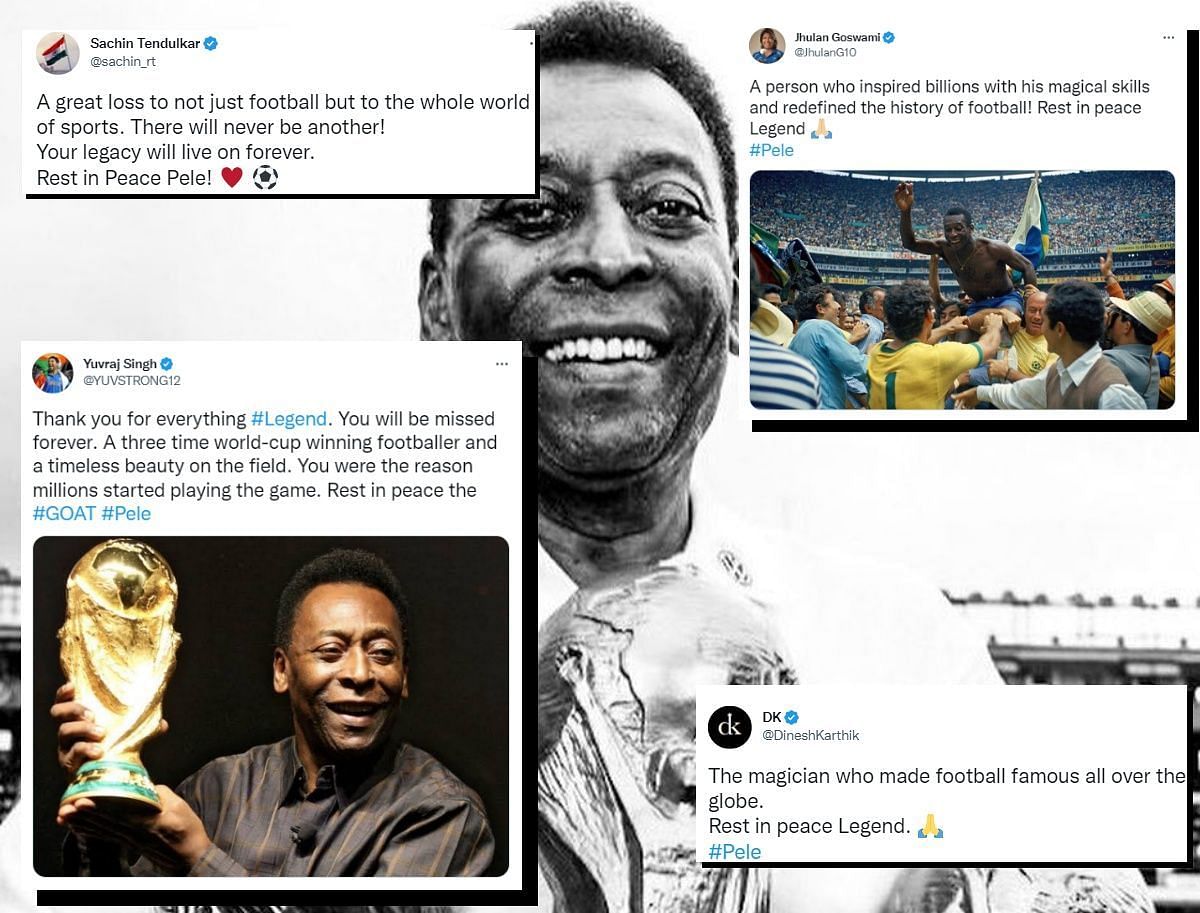 Brazilian football great Pele passed away on Thursday, December 29, at the age of 82 in Sao Paulo. He was battling cancer, apart from some kidney and heart issues.
Pele was admitted to a hospital on November 29. He was being treated on a regular basis since September 2021 after a tumor was removed from his colon.
The football legend's daughter, Kely Nascimento, confirmed his death by sharing a post on Instagram. In the image, Pele's family is seen holding the hands of the late Brazilian giant. The heartwarming post was shared with the caption:
"We love you endlessly. Rest in peace."
Pele's official Instagram account also shared an emotional post that read:
"Inspiration and love marked the journey of King Pelé, who peacefully passed away today. On his journey, Edson enchanted the world with his genius in sport, stopped a war, carried out social works all over the world and spread what he most believed to be the cure for all our problems: love. His message today becomes a legacy for future generations."
The Indian cricket fraternity also paid tribute to Pele, mourning his loss and hailing the legend for his exceptional contribution to the sporting world.
Here are some reactions shared on Twitter:
Pele: A brief profile of the legendary Brazilian footballer
Born Edson Arantes do Nascimento on October 23, 1940, in the Minas Gerais town of Tres Coracoes, Brazil, scored a world record 1,281 goals during his illustrious career. He is the only player in the history of football to will the World Cup thrice.
Pele joined Santos at the age of 15. With his sublime skills, he turned the small club into one of the most famous names in the game. He was chosen in the Brazil squad for the 1958 World Cup at the age of 17. The youngster scored a hat-trick in the semi-final against France. He also scored two goals in the final against hosts Sweden as Brazil won their first-ever world championship.
He was forced to miss most matches of the 1962 edition, which Brazil won, due to injuries. Pele won a record third World Cup as a player in 1970 in Mexico. The team is considered by football experts to be one of the greatest sides ever.
The Brazilian great retired in 1974, but after some ill-advised investments, he suffered massive financial losses. He subsequently accepted an offer to play in the North American Soccer League.
Pele suffered from a number of health issues in his last few years. Following hip surgery, he had trouble walking unaided. His public appearances significantly reduced as age-related issues took a toll on his health.
Along with late Argentina legend Diego Maradona, Pele is considered among the greatest ever to have played football.
Edited by Renin Wilben Albert