Key events
72 min Collins nicks the ball off Martial near the halfway line and goes on a typical, barnstorming run forward. Fred brings him down and is booked.
71 min Toti and Rayan Ait-Nouri were about to come on for Wolves but the substitution has been delayed while they decide what to do about Nunes.
71 min Nunes is on his feet but moving gingerly. Is that racist?
69 min Nunes is down after being caught from behind, I think on the achilles, by Fred. It's been a stop-start second half.
67 min Casemiro blooters a volley well wide from 25 yards.
65 min: Wolves substitution That was Semedo's last touch: he's replaced by Jonny.
64 min A wicked inswinging cross from Fernandes is headed behind by the stretching Collins, an excellent bit of defending. United take the corner short to Antony, whose brilliant driven cross towards Shaw is headed off Shaw and behind by Semedo. That was vital defending.
61 min: Man Utd substitution Fred replaces Christian Eriksen in midfield.
60 min Bruno Fernandes drags wide from eight yards, though everyone knew he was offside from Casemiro's pass.
58 min: Good save from de Gea! Neves curls a superb free-kick that is well saved by de Gea, flying to his left to push it away with both hands. That was such a lovely strike from Neves, hit with power and accuracy from a long way out.
57 min Casemiro, who might have been booked in the first half, does get a yellow card for fouling Podence 30 yards from goal.
56 min Fernandes's free-kick is hilariously bad, launched straight into the top tier.
55 min This is a good spell for United, and Fernandes has just been fouled 25 yards from goal by Moutinho. The free-kick is slightly to the right of centre…
53 min: Good save by Sa! After some snappy passing in a tight area from United, Fernandes's first-time shot deflects towards Antony on the right-side of the six-yard box. Sa is out very quickly to block his shot.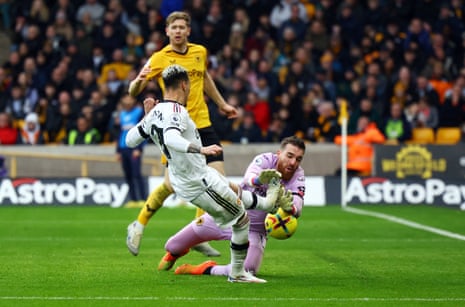 52 min Fernandes plays the ball out to Antony on the right. He zips infield and hits a shot from the edge of the area that is well blocked by Collins. Antony appeals for a penalty, but though the ball did hit Collins' arm, it was down by his side.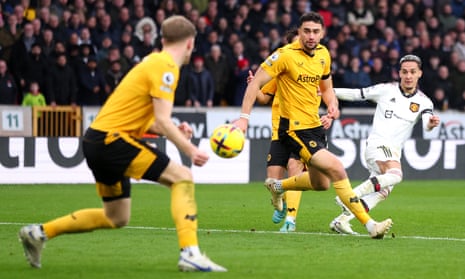 51 min And now he's back on his feet.
51 min Podence is still being treated.
49 min Podence is down, with a bit of blood coming from his nose. He was accidentally cauight by Antony's studs while making a challenge.
48 min Traore plays a one-two with Podence, runs at Malacia and curls an excellent cross that is headed away at the far post.
47 min Bueno's corner is flicked across goal at the near post and headed clear by Malacia.
47 min "Quite the distinct fashion choices by the managers," says Joe Pearson. "Didn't I see Ten Hag in the full-on puffer coat, with Lopetegui opting for a simple turtleneck? Is it cold in Wolverhampton or not?"
I think Lopetegui keeps himself warm by losing his rag with the fourth official every few minutes.
46 min Wolves begin the second half. Both teams have made a change: Adama Traore for Diego Costa, which is a surprise as he played well, and Marcus Rashford for Alejandro Garnacho.
Update Antony was offside, the end.
Half-time reading
There is already a squad capable of staying in the Premier League at the City Ground and a couple of further additions should further boost Forest's survival hopes. Upsetting Chelsea in front of a raucous home crowd would underscore their value to the club. The Chelsea result will not define Forest's month but it could change the course of it, on and off the pitch.
Half time: Wolves 0-0 Man Utd
I'm now starting to doubt that Antony was offside. If he wasn't, that was such a good save from Sa, who had to scamper across his line and then get down sharply to his left to block the header.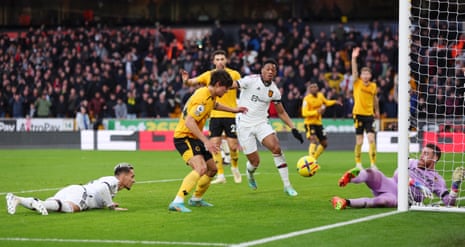 And either way, Martial missed a great chance a split-second earlier.
45+1 min Sa makes an outstanding save from Antony's close-range header, smuggling the ball onto the post, though it wouldn't have counted as Antony was offside. However, moments earlier the onside Martial missed a stooping header from six yards after Garnacho's cross deflected towards him.
At least I think that's what happened; there has been no mention of offside on BT Sport but I'm sure that's what the referee blew for, a split-second before blowing again for half-time.
45+1 min "In relation to Antony possibly bottling a 50/50," says Sam Campbell, "I have a bit of sympathy for players pulling out of challenges like that as it's so easy to get a red card if you go over the ball whether or not you mean to do so."
Now that's what I call empathy.
45 min One minute of added time. The half is petering out. Did it ever peter in?
43 min "Weird territory for me, liking a Utd manager," says Ettiene Terblanche. "I've had antipathy towards United in every previous life, with the Ferguson years being the most bilious. Erik Ten Hag might be showing that one can be effective and tough, without being a bully (although only the most self-aware United fans will recognise this). Good luck to him."
Wait till they start having success; you might perceive him differently then. I suspect there were, for example, a lot of United fans who liked Jurgen Klopp when he first came ot England.
42 min It's been a good half for Wolves, who have pretty much been United's equals. The only big chance came from a Wolves mistake, when Semedo's lamentable backpass led to Garnacho being denied by Sa.
39 min Casemiro stops a counter-attack with a foul on Neves. The referee settles for a warning, and Julen Lopetegui waves his hands around in disgust. Casemiro, a bit like Costa earlier, made the foul look clumsy rather than cynical.
37 min: Chance for United! Antony sprays a long pass out to Garnacho on the left. He plays in the overlapping Malacia, whose chipped cross is headed straight at Sa by Antony, 10 yards out. That was a decent chance.
36 min Hwang's deep cross is met sweetly on the volley by Podence. Varane makes another good block. Wolves have played some really good stuff on the counter-attack.
35 min "I find difficult to grasp Julen Lopetegui," writes Kári Tulinius. "His well-organised Sevilla were really good, and with a bit of luck could've had a decent tilt at the Spanish title, playing with a calm certainty in their style. Yet he personally exudes nervousness, whether it was jeopardszing his tenure as Spain's manager on the eve of the World Cup, or in his touchline demeanour, which resembles that of a shouting and moaning dad at a youth fixture. Happy new year!"
33 min On that tackle from Collins in the 30th minute, I think Martial may have fresh-aired his attempted shot a split-second before Collins challenged him. I'm not 100 per cent sure, though, and I probably never will be.
32 min "After that weak refusal to shoot or engage in what looked like a 60:40 challenge with Jose Sa, I think Antony might be looking at a dressing room internal disciplinary hearing," says Gary Naylor. "Who could replace him for the second half I wonder?"
31 min Podence's cutback from the left finds its way through to Neves, just inside the area beyond the far post. He cuts across a stinging shot that hits Shaw and goes behind for a corner.
30 min: Great tackle by Collins! United almost cut Wolves open with two lovely passes. Antony curved the ball down the right with the outside of his foot to Fernandes, who dragged a deliberate first-time cross towards Martial near the penalty spot. Collins came across to make a vital challenge.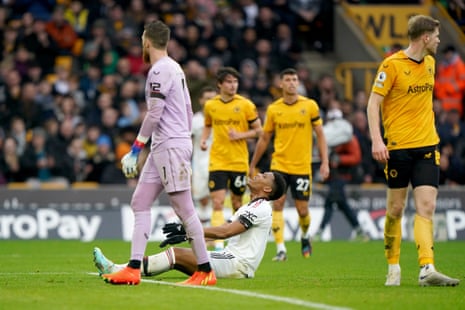 28 min Costa leaves one on Luke Shaw, a foul made too look sufficiently clumsy that it doesn't merit a yellow card. It's a rare skill.
27 min Eriksen's deep free-kick is headed dangerously across goal by Casemiro – he's so good in the air at set-pieces – and cleared by a Wolves defender in the six-yard box.